Financial Recovery Alliance Corporation offers a fresh approach to the accounts payable audit business. Our success is based on:
Digging deeper and finding more: We carefully audit every invoice of every supplier (our competitors cherry-pick the big ones).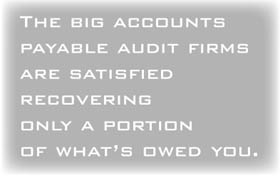 Retaining more of what's found: Our clients get a much higher rate of recovery by taking the time to identify specific problem areas (mostly overlooked by other firms).
<![if !vml]>

<![endif]><![if !vml]>

<![endif]>Standing behind our results and your credibility: We recognize the need to preserve your good working relationship with suppliers, including providing personal support in defending all issues related to recovery (other companies have trouble just finding the person who actually

performed your audit).
We answer to you: Since FRA management doesn't have to report to anxious stockholders, we can keep our focus on the needs of our clients, working hard for the quality recovery and claim support you deserve.
Next ("Why FRA Outperforms Other Firms")...